General information about Iceland
<![if !vml]>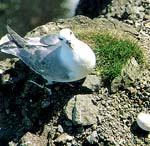 <![endif]>Iceland, the second largest island in Europe, lies close to the Arctic Circle. It is about midway between New York and Moscow. Iceland has a total area of 103,000 square km (39,756 square miles). From north to south the greatest distance is about 300 km (185 miles), from west to east about 500 km (305 miles). The coastline is about 6,000 km (3,700 miles) and the shortest distances to other countries are 286 km (180 miles) to Greenland, 795 km (495 miles) to Scotland and 950 km (590 miles) to Norway.
Considering the northerly location of Iceland, its climate is much milder than might be expected, especially in winter. The mean annual temperature for Reykjavik's is 5°C, the average January temperature being -0.4°C and July 11.2°C. The annual precipitation on the south coast is about 3,000 mm, whereas in the highlands north of Vatnajökull it drops to 400 mm or less. The weather in Iceland is on the whole quite changeable and depends mostly on the tracks of the atmospheric depressions crossing the North Atlantic. The passage of a depression some distance south of Iceland causes relatively cold and dry weather, especially in southern districts, while one passing northeastward between Iceland and Greenland brings mild weather, moderately dry in the north.

Climate
<![if !vml]>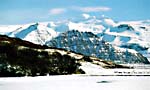 <![endif]>Coastal areas in Iceland tend to be windy, gales are common, especially in winter, while thunderstorms are extremely rare.
The Northern Lights can often be seen, especially in autumn and early winter.
For two to three months in summer there is continuous daylight in Iceland, and early spring and late autumn enjoy long twilight. The really dark period (three to four hours' daylight) lasts from about the middle of November until the end of January.
<![if !vml]>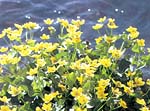 <![endif]>Iceland's southern and western coasts experience relatively mild winter temperatures thanks to the warm waters of the Gulf Stream. July and August are the warmest months and, in general, the chances of fine weather improve as you move north and east. The sunniest weather is around Akureyri and Lake Mżvatn in the central north and warmest around Egilsstašir in the east, yet none of those places quite escapes the discomfort of a chilly wind. While these areas are more prone to clear weather than the coastal areas, the deserts in the interior may experience problems such as blizzards and high winds that whip up dust and sand into swirling, gritty maelstroms.
Geologically Iceland is a very young country, and the process of its formation is still going on. Iceland's interior consists entirely of mountains and high plateaus, devoid of human habitation. Its average height is 500 m above sea level, the highest point being Hvannadalshnśkur in the Öręfajökull glacier in Southeast Iceland, reaching a height of 2.119 m (6,950 feet).
For more informations about Iceland
Please visit www.travelnet.is

For photographs of iceland
Please visit www.snorrason.is

For information about Driving in Iceland
Please visit www.vegagerdin.is